Vicar Water country park (NG21 9AA) is just to the south of Clipstone village. It has been created on the site of a former colliery, transforming this former industrial site into a heathland, woodland and grassland, offering spectacular views across to Derbyshire and Lincolnshire.
At the centre of the park is Vicar Pond, a large fishing lake created by the fifth Duke of Portland in the 1870s. In the past the lake has been used for boating and swimming. Today it's returned to its original use and offers a thriving coarse fishery. For more information on fishing at Vicar Water, email vicarwaterangling@gmail.com or call 07595 834 209.
The park has been awarded Green Flag status in recognition of its excellent range of facilities, maintenance standards and opportunities for community involvement. The park is also a designated Local Nature Reserve.
During September and October the main vehicle gate to the park closes at 6pm.
Park facilities
large fishing lake and abundant wildlife‌
footpaths and cycleways suitable for all abilities including the Sustrans National Route 6 and the Timberland Trail
visitor centre with toilets
Rumbles Café
children's play area
small pond (for model boats and duck feeding)
Golden Hand sculpture
New play area
The new play area includes a giant zipwire, climbing frames, swings and roundabouts. We've added an accessible swing seat for ease of use by all abilities.
Tree Planting Plans at Vicar Water Country Park
In association with our partners we plan to plant 4.4 hectares of native woodland on previously grazed land at Vicar Water Country Park. This area of the park is called Vicardale.
The tree planting forms part of the Defra funded Trees for Climate project and is being delivered in partnership with Nottinghamshire County Council and the Sherwood Forest Trust.
This map of Vicardale shows how the new tree planting will help to join up two existing woodland areas to create a wildlife corridor.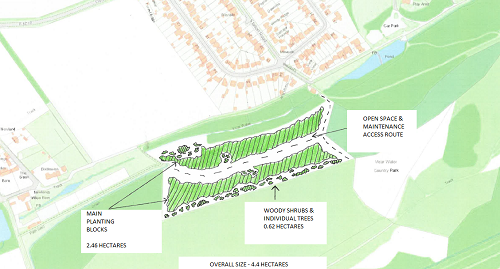 The District Council's greening agenda recognises the urgent need to plant more trees to help with climate emergency and biodiversity loss.
We plan to plant 4000 new trees to create a mixed broadleaved woodland providing benefits for people, wildlife and the landscape. It is hoped planting work can commence in January 2022.
Trees will be planted on the majority of the slope as it goes upwards from Vicar Water towards the heathland paddock of Bower Hill Heath at the top. These blocks will grow on to become high forest with a mixture of native woodland species which will have irregular edges and planting is expected to avoid straight regimented lines.
Access routes for maintenance and other open spaces will be incorporated into the design and transitioning from short herbage in the centre, to longer soft vegetation, to woody shrubs, to high forest woodland. Trees will be planted more sparsely towards the top of the slope with the introduction of clumps of trees reminiscent of small copses or groups of trees that evaded animal browsing. This approach will help transition the change from woodland, to longer grass and into the existing heathland.
The trees will bring about improvements to local biodiversity with future plans for woodland flower planting and wildlife habitats including bird boxes and bat boxes. Some tree species including hawthorn will be important for pollinators.
We propose continued no public access to the area while the trees establish. There will be future opportunities to open new pathways for improved amenity. The project will use fencing to protect the trees from animals rather than lots of plastic tree guards.
We believe the local views from homes looking out over Vicardale will be improved as local residents can view the changing seasons of the deciduous trees.
Proposed species list
Pedunculate Oak, Silver Birch, Downy Birch, Aspen, Wild Cherry, Sm. Leaved Lime, Rowan, Hornbeam, Common Whitebeam, Common Alder, Field Maple, Hawthorn, Blackthorn, Hazel, Crab Apple, Holly, Guelder Rose, Wych Elm, Goat Willow, Purging Blackthorn, Dogwood, Spindle, Grey Sallow, Wayfaring Tree, Wild Privet.
Have your say
Please have a look at the proposals and tell us what you think.
Email lynn.preece@nsdc.info
If you would like to discuss the project in more detail please do not hesitate to get in touch. Plans are available in the visitor centre on the park and Ranger Neil is organising two drop-in sessions to talk about the plans and answer any questions.
Tuesday 26 October 11am to 1pm
Friday 29 October 10am to 12pm
The deadline for feedback on the plans is Friday 29 October 2021.
Get involved
If you would like to get involved with volunteering and tree planting on the park please get in touch with Ranger Neil.
Email neil.campbell@nsdc.info
Look out for our free tree give-way each autumn.
New Public Space Protection Order for Vicar Water Country Park
Public Space Protection Orders are designed to promote responsible behaviour and restrict behaviour that is anti-social, in parks and other public open spaces.
A new Public Space Protection Order for Vicar Water Country Park has been implemented in relation to combating fire-related nuisance on the Park. The terms are:
"a person or persons are prohibited from the following activities being: the lighting of fires; barbecues; Chinese lanterns, fireworks; or using any article/object which causes a naked flame and which poses a risk of fire"
Notices are in place around the park.
Rumbles cafe
Rumbles cafe is a run by Rumbles Catering Project, a charity providing education and training for people with learning difficulties. It has a five-star hygiene rating and Healthy Options Takeaway (HOT), including vegetarian options.
An outside and take-away service is currently being offered Wednesday to Sunday each week 9am to 4pm.
Menu deals include:
Tea and cake £3.50
Coffee and cake £4
Meal deal - fresh roll, crisps and cold drink £4.50
Tea and cream and jam scone £4.50
Soup of the day and a roll £2.50
For further details on Rumbles menus and services or to enquire about hiring the Visitor Centre facilities, call 01623 424836 or e-mail rumblescateringproject@yahoo.co.uk.
Park events
Saturday 11 December – Free Christmas Crafts 10am to 2pm. Christmas brunch with Santa bookable via Rumbles 10am to 2pm
Follow the Vicar Water Country Park Facebook page for more information about our events and to join in the conversation.
Wildlife, habitats and education
The pond, stream and lake at Vicar Water all provide homes and food for a variety of wildlife. You'll find birds including kingfishers, herons, grebes and tufted ducks as well as water scorpions, frogs and newts, emperor dragonflies, common darters and more.
Vicar Water's heathland was transplanted from Budby Heath in 2000 and includes a mosaic of bell and ling heather, cross-leaved heath, along with gorse and broom. This heathland supports a wide range of birds, reptiles, butterflies and beetles.
Key species to look out for here include:
green woodpecker
tree pipit
nightjar
common lizard
green tiger beetle
dingy skipper butterfly
Species rich grassland is another rare and important habitat. It can support a large number of rare grasses and flowers. Keep an eye out for bee orchids, harebell, field scabious, and common centuary.
Vicar Water has a large amount of woodland containing both broadleaved and coniferous trees along with scrub. These wooded areas are also full of wildlife.
Conservation volunteering
Live in the Sherwood area? Want to meet new people, keep fit, help to conserve and enhance your local country park whilst having fun? Then why not join the Sherwood Heath Volunteers? No experience is necessary, just enthusiasm!
Tasks will vary from scrub bashing, fencing, visitor surveys, repairing footpaths, woodland thinning and habitat surveying so there is something for everyone! You will also get the chance to work at Vicar Water Country Park and Intake Wood in Clipstone.
Full training and tools will be provided but please bring suitable old outdoor clothing and stout footwear. Any hours and days that you can spare will be greatly appreciated.
For more information, please contact Lynn Preece via email lynn.preece@newark-sherwooddc.gov.uk.
Friends of Vicar Water
The Friends of Vicar Water volunteer group is involved in helping us to look after the park. The group meets regularly and welcomes new members. Email Lynn Preece for more details at lynn.preece@newark-sherwooddc.gov.uk.
Forest school
Our park rangers offer a forest school featuring a fun outdoor learning programme for children aged five to ten. It's available in our parks in Newark, Ollerton and Clipstone.
Miner 2 Major
Miner to Major is an exciting five-year land management project (2019 to 2023) supported by the National Lottery Heritage Fund.
The scheme is delivering a range of projects that celebrate and help protect the diverse wildlife, important habitats and rich heritage of Sherwood Forest.
There are lots of opportunities to get involved with volunteering, have-a-go activities, restoring natural habitats, monitoring threatened species, planting hedges and trees, improving walking tails, free training and up-skilling courses, surveying historic buildings, learning traditional crafts and learning about local legends and heroes.
There are opportunities to take part in activities at locations including Rainworth Heath, Budby Forest, Sherwood Forest, Vicar Water Country Park, Intake Wood and Sherwood Heath.
Find out more about how to get involved on the Miner to Major website.
Voluntary parking charge
The parks have a voluntary pay and display scheme. If you drive to the park you can make a parking donation of £1 for a day, or buy a season ticket for £20. Donations will be reinvested in the parks, but charges are not compulsory and you won't be charged or fined if you do not buy a ticket.
Park rules
Help us prevent fire, litter and wildlife damage. BBQ's, campfires and fireworks are not permitted in the park.
Sky lanterns and helium balloon releases are now banned in our council parks.
Dog owners must ensure that their dogs are safe at all times and not creating a nuisance or danger for anyone else.
Dogs must not harm or worry the park's wildlife.
It is the law for dogs in public spaces to:-
be microchipped
wear a collar
wear an identity tag
It is an offence to not pick up dog mess in the district with penalties of up to £1000. Dog mess is a health hazard.
Our park rangers and council public protection officers can request that dogs are put on their lead if they feel a dog is not under control or causing a problem.